BIOSYNT 40V
LUBECO™ BIOSYNT 40V is a premium, fully synthetic multi-purpose oil offering greater lubrication and improved preservative effects. It is readily biodegradable, non-toxic and user friendly.
Areas of Application
BIOSYNT 40V is a multi-purpose lubricant suitable for lubrication of all mechanical equipment e.g. bicycles (chain, gear switches, shift levers), sewing machines, guns, hinges, rusty locks, outdoor equipment, and general use around you home or workshop.
Also available in 400 ml aerosol application.
Characteristic Features
Greater lubrication performance
Excellent protection against rust and corrosion
Multi-purpose lubricant
Readily biodegradable
Documents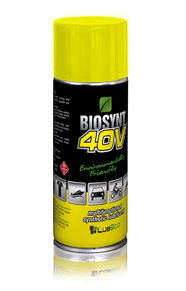 Parameters
Base Oil
Synthetic oil
Kin. viscosity at 40 °C

The viscosity of a fluid is a measure of its resistance to gradual deformation by shear stress or tensile stress.

48 cSt
Density at 15 °C
921 kg/m3
Flash Point
>300 °C
Pour Point

The pour point of a liquid is the temperature below which the liquid loses its flow characteristics.

-35 °C
Biodegradability in 21 days
>80 %
Need more information?
Contact us please for additional information e.g. request of MSDS etc.
We will reply to you as soon as possible.